Published by the Children's Rights Alliance for England, which has been part of Just for Kids Law since 2015, our regular State of Children's Rights in England reports are a key component of our children's rights monitoring work. The reports bring together evidence from CRAE's 100 member organisations to offer a comprehensive picture of government compliance with the United Nations Convention on the Rights of the Child (UNCRC) in England. Through the reports we monitor progress made on the recommendations of the UN Committee on the Rights of the Child, identify areas of concern, and put forward further recommendations for government action to ensure children's rights are respected and promoted. CRAE has been compiling the reports since 2003.
The State of Children's Rights 2018
It is a damning indictment of our national priorities that such little progress has been made on addressing children's rights issues and the UN's recommendations over the past year.
Louise King, Director of CRAE and Director of Policy and Campaigns at Just for Kids Law
The 2018 edition of the report reveals how national and local government is failing to protect children in England whilst policymakers focus on Brexit, leaving children traumatised, powerless and vulnerable to abuse in many areas of their lives. The State of Children's Rights in England 2018 report includes new data gathered using Freedom of Information requests showing that:
Local authorities are making use of a legal loophole to house families in B&B accommodation for longer than the legal limit.
Increasing numbers of children and young people are being housed in independent accommodation which can include B&Bs, hostels, and even tents and caravan parks, many of them for long periods.
Police use of Tasers against children is increasing, and Tasers were used disproportionately against children from BAME backgrounds.
The use of spit-hoods is increasing year-on-year as more police forces roll out their use.
The report finds little evidence of progress on children's rights issues over the past year, suggesting that a focus on Brexit is reducing government's ability to address issues such as rising exclusions from school, mental health problems and child poverty. This means children's basic needs and development such as their right to feel safe and be protected from abuse, have a roof over their head and play are being side-lined.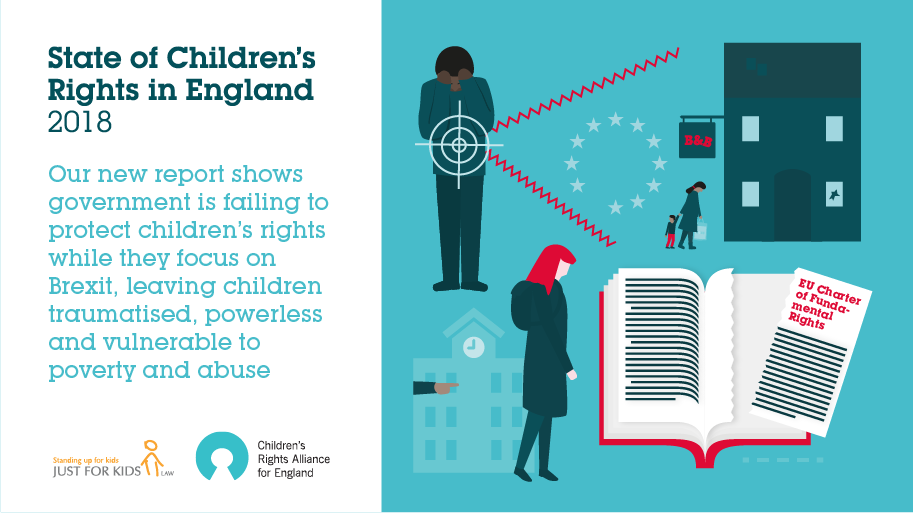 Read the full report on the CRAE website