Our Impact and Learning Report shows the difference we make to young lives every day. The nature of our individual casework is holistic, both in the way that it seeks to provide support covering multiple areas of need that a young person has and in the way that they are supported by a team of advocates, lawyers and youth opportunities workers who are co-located to provide a joined-up package of help.
As a young person you don't really know who to contact when you have an issue. Some organisations can't provide for all needs, but Just for Kids Law can, which was extremely helpful. I don't know what I would do without JfKL.
Presenting data from our casework database and annual client survey, alongside a description of the highlights of our all work over the year, and a collection of case studies to illustrate the breadth of our work and unique strengths of our holistic casework model, our 2020/21 Impact and Learning Report shows how we work to transform the lives of young people all over the UK. Learning is paramount to us because it ensures we are always seeking to improve our work with and for children and young people, and in this year's report we set out key things that we didn't achieve and what we've learned as a result.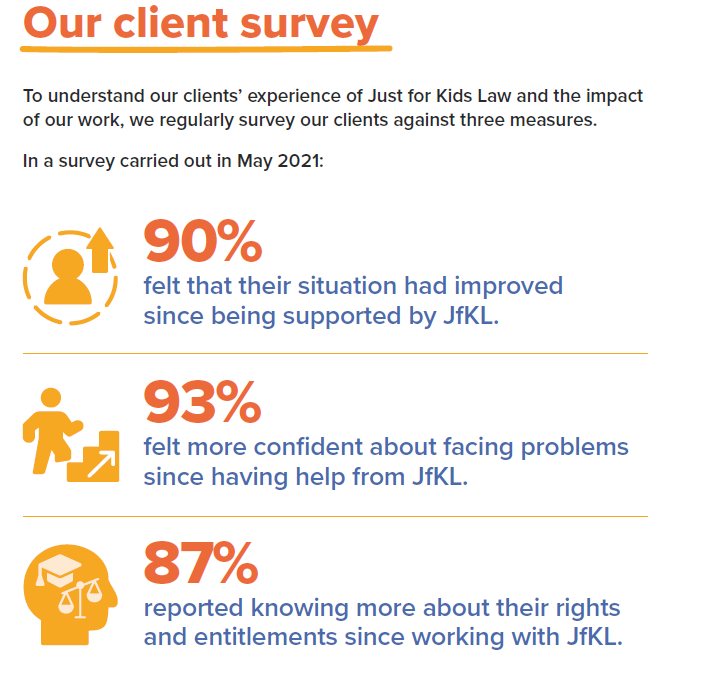 It's not just the children and young people we support who benefit from the impact of our work: we fight for wider systems change taking the evidence from our direct casework as a starting point.  We've achieved some incredible reforms that will make a big difference in the lives of many children and young people.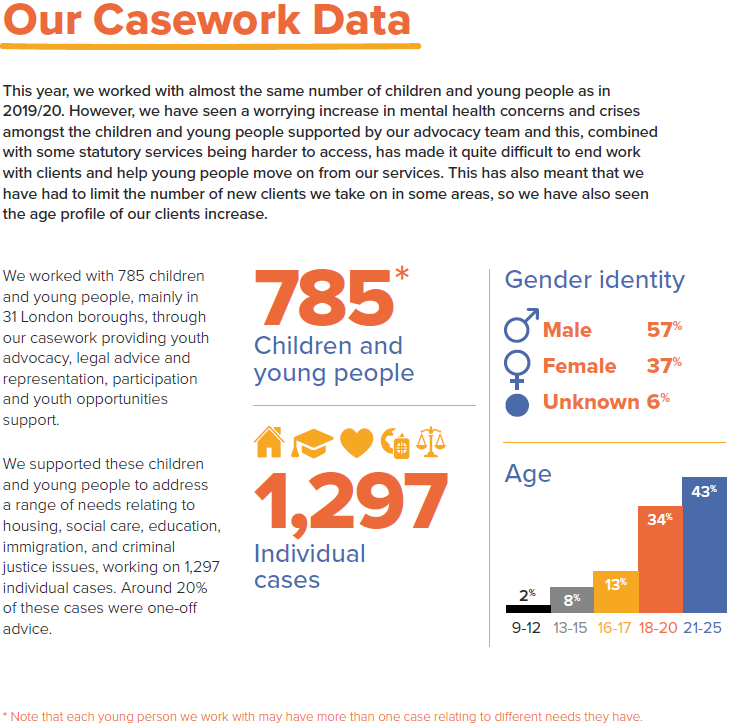 Read our 2020/21 Impact and Learning Report
In addition to our annual Impact Reports, we recently commissioned an external evaluation of our casework model to help us better understand how we make a difference in the lives of the children and young people we work with. The mixed methods evaluation, which ran from May 2021 to May 2022, was based on 15 depth interviews with children and young people, four interviews with staff, two surveys (with 36 children and young people, and 19 staff), a review of evaluation data held by Just for Kids Law and three co-production workshops held with young people and staff to explore the findings and co-produce recommendations.  
Overall, we found out just how important and distinct our work is to the children and young people we work with, with client interviewees reporting being very satisfied by our work's impact on their lives. Our support was also found to be largely accessible and equitable: there were no examples of children and young people feeling they had been treated differently because of who they were which stood in contrast to their experience outside of Just for Kids Law.
Here's a snapshot of what the evaluation discovered about our impact and the effectiveness of how we work.
Satisfaction with support
Children and young people reported being very satisfied with our support, which they attributed to the way they were treated by staff, who they found to be empathetic, supportive, positive, and approachable. They also noted that having multiple support options in one place was the most useful aspect of our support.
Children and young people described us as looking out for their best interests and being more respectful and compassionate than other organisations. This approach, combined with the multiple support options we offer, are key values that distinguish us from other organisations offering support.
[Caseworker] gave me respect; he wasn't pompous or anything like that. He was just literally always reassuring me. And I thought that was nice. He … said look, we'll get to the bottom of this, and I can imagine how you felt. … He had empathy. And I thought that took some of the stress out of it.
(JfKL client)
Young people's outcomes
The majority of the children and young people interviewed reported progress on the issues we have been working with them on, despite our staff having to work through multiple complex issues during the pandemic. Progress meant improved life situations, such as securing more stable housing, being allowed to return to school, maintaining custody/access to a child, and avoiding prison.
Our clients felt more confident, less isolated, more stable, calmer and less worried as a result of our support, and there was also a strong sense that they better understood their rights and entitlements too. This gave them a newfound sense of power and a new ability to challenge external agencies, if needed. Many children and young people said their relationships with external agencies had improved and they felt professionals listened to them more as a result of our work.
In interviews, children and young people gave many examples of how they had learnt more about their strengths through the casework experience and how best to use these to get better outcomes.
When I was with the advocate [Just for Kids Law advocate] … they told me I was stronger than I look. We had to go through a lot of battles, especially with my caseworker [external to Just for Kids Law]. That made me think actually I can do this. I'm strong enough to overcome this.
(JfKL client)
There's a lot of things that I've worked on, like writing emails, communicating with people, where I can go to for help. There's a lot of personal strengths, but that before I saw as weaknesses, and I sort of built upon some of them. … There's a lot of things where I'm just like, 'Okay I understand this more now.' And it's definitely going to help me in the future. … I've always been a bit of a fighter when I know I'm right, and someone tells me I'm wrong. And Just for Kids Law have definitely helped me put it across in a more sensible manner.
(JfKL client)
For some reason I struggle with public speaking … I've definitely been pushed in that area and shown that I can actually articulate my story as well.
(JfKL client)
Looking ahead, many children and young people felt more hopeful about their lives and future, feeling that they better understood their options moving forwards and that they would be in a better position to tackle future issues themselves.
I feel more settled. I wasn't settled before. I was in temp accommodation – they didn't meet my needs – there was no time to grow, no ability to feel settled, having a place to stay and call home. I've always been in care. They've helped me – basically helped me build home. I was moving around before – some not suitable – before I had advocacy involved, I was in a studio apartment with my kids. Now I am in a one-bed trying to get to my next target. They are fighting, helping with my life issues. Everything gets on top of you sometimes, it good to have those professionals that are there.
(JfKL client)
Read the independent evaluation report
We rely on donations to support as many children and young people as possible.