Our Impact and Learning Report shows the difference we make to young lives every day. The nature of our individual casework is holistic, both in the way that it seeks to provide support covering multiple areas of need that a young person has and in the way that they are supported by a team of advocates, lawyers and youth opportunities workers who are co-located to provide a joined-up package of help.
As a young person you don't really know who to contact when you have an issue. Some organisations can't provide for all needs, but Just for Kids Law can, which was extremely helpful. I don't know what I would do without JfKL.
Presenting data from our casework database and annual client survey, alongside a description of the highlights of our all work over the year, and a collection of case studies to illustrate the breadth of our work and unique strengths of our holistic casework model, our 2020/21 Impact and Learning Report shows how we work to transform the lives of young people all over the UK. Learning is paramount to us because it ensures we are always seeking to improve our work with and for children and young people, and in this year's report we set out key things that we didn't achieve and what we've learned as a result.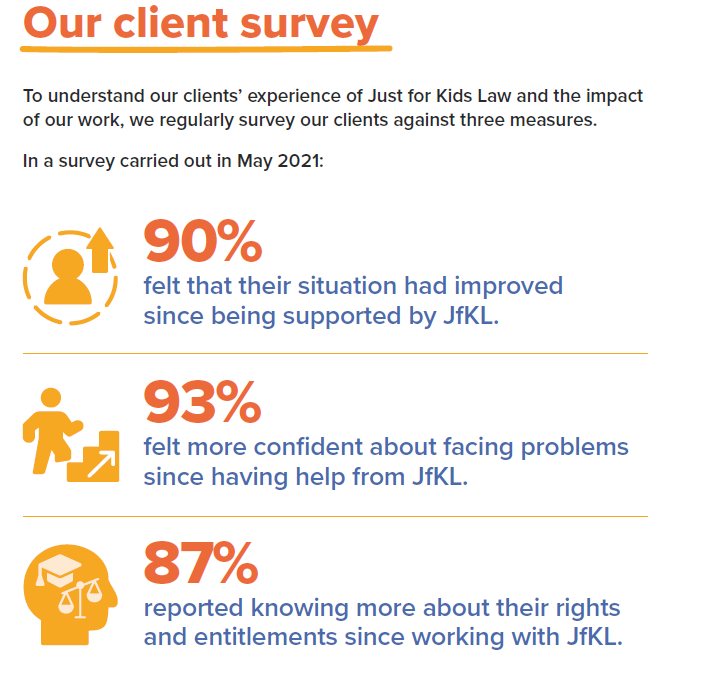 It's not just the children and young people we support who benefit from the impact of our work: we fight for wider systems change taking the evidence from our direct casework as a starting point.  We've achieved some incredible reforms that will make a big difference in the lives of many children and young people.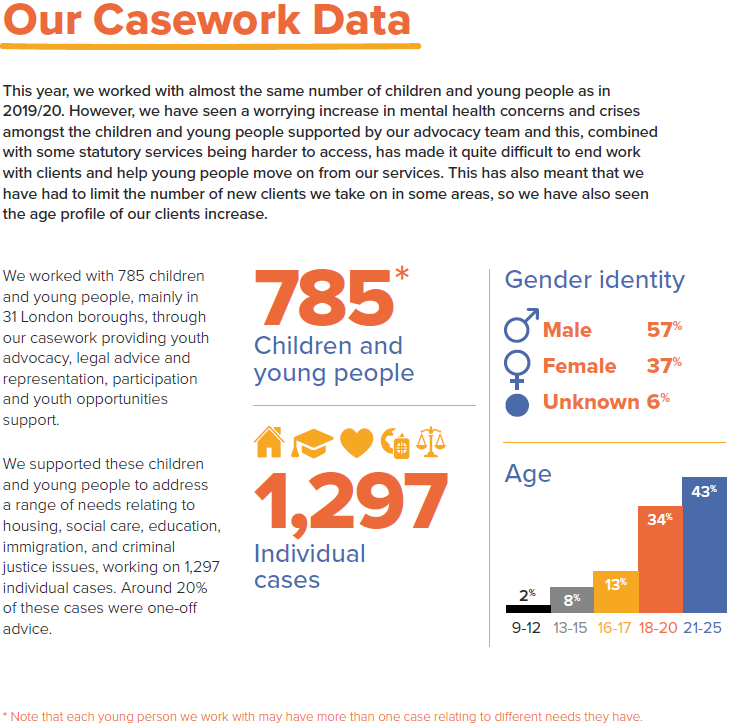 Read our 2020/21 Impact and Learning Report
In addition to our annual Impact Reports, in February 2019 we published an independent evaluation of our casework model, produced by NCVO Charities Evaluation Services. Based on in-depth interviews with young people, as well as the outcomes reported in JfKL's annual client survey, the evaluation finds "strong evidence" of a number of positive outcomes for young people, including:
feeling supported and having consistency of support
reduced feeling of isolation
improved wellbeing
improved social care situation
improved education, training and employment situations
improved financial situation
increased ability to self-advocate
The evaluation concludes that JfKL's casework model "allowed young people to feel supported in a way they had not felt supported before by other agencies and organisations" and that young people "described the effect as lasting". In the evaluation interviews, three out of four young people reported positive change in their wellbeing after contacting JfKL, while nine in ten reported feeling less alone when dealing with their problems.
Read the independent evaluation report
We rely on donations to support as many children and young people as possible.