Just for Kids law works with children and young people aged 10 to 25 who live in London. We can help if you have problems with:
Being in care or a care leaver, or talking to social services
Your housing, or if you are homeless or don't have anywhere safe to stay
The police or the criminal courts
Your immigration status or getting immigration documents sorted out
School or college, including if you have been excluded
Finding jobs, training and other opportunities
Getting benefits or sorting out debt
Your family, for example if you are going through the family courts
Getting support for your health or your mental health
You don't have to pay Just for Kids Law any money. All our help is free.
Click here to fill in our form for new clients
What kind of support can I get?
Just for Kids Law can help you in different ways depending on what you need. You can get help from an advocate, a lawyer or a youth opportunities worker.
Advocates
Our youth advocates will help you to understand your rights and make sure that your wishes and feelings are heard by the other people working with you.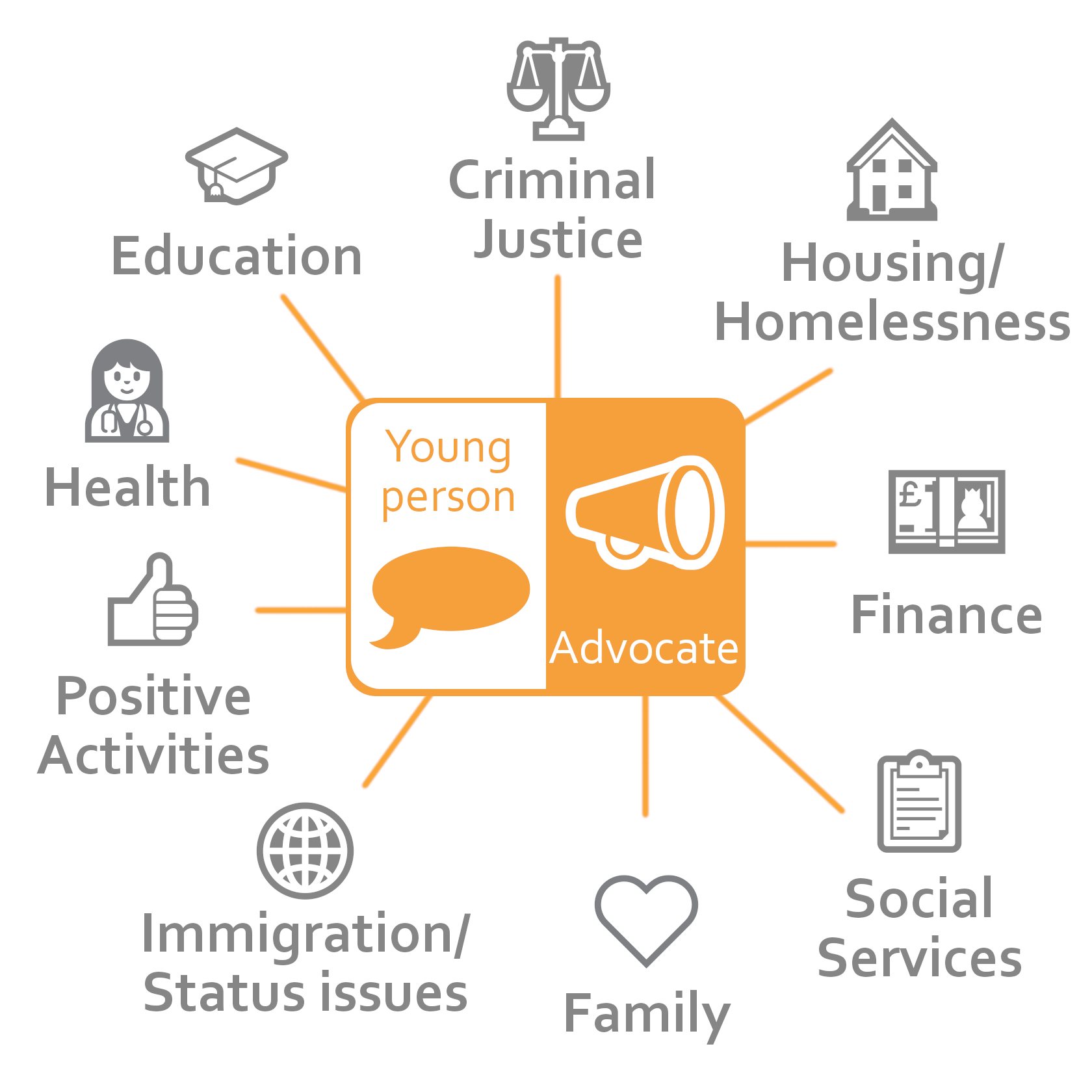 A youth advocate can:
Come to meetings with you and help you to express your wishes and feelings

Speak to or email other professionals for you

Help you understand your rights

Explain your different options so you can make a choice about what you want to do

Explain legal processes so you understand what is happening

Put you in touch with lawyers or other advice or support services
Just for Kids Law aims to provide a holistic service. This means our advocates will do their best to help with all the problems and challenges that you face and if they can't help, they will always try and find someone who can. The advocates can also help you to get legal and youth opportunities support from other teams at Just for Kids Law, if you need it.
Lawyers
At Just for Kids Law, we have lawyers working on these issues:
Criminal law: Our criminal lawyers can go to police interviews with you, represent you in court and advise you on every step of your criminal case.
Education: Our education lawyers can help you if you have been excluded from school or if your school is not giving you the support you need.
Community care: Our community care lawyers can help you access social services support and represent you in care proceedings.

Housing: Our housing lawyer can advise you about your housing problems and in some cases is able to represent you.

Immigration: Our immigration caseworker can help you find the best way to resolve your immigration problem, and help you complete an application for status.
We don't currently have lawyers working on family law but if you get in touch with us we can help you find a lawyer from another organisation to help with these things.
Youth Opportunities
Our youth opportunities workers will help you to get into education, find a job and get involved in other positive activities.
A youth opportunities worker can:
Help you write your CV and job applications

Help you prepare for interviews

Help you write UCAS, college and other course applications

Help you find work experience placements

Help you apply for tutoring support

Go with you to appointments, open days, job and apprenticeship fairs

Help you with skills like organising your time
How do I get help?
Getting help from Just for Kids Law is simple.  You can get in touch to tell us you need help in three different ways:
Phone us on 020 3174 2279  (our phone lines are open Monday-Friday, 9.30am-5.30pm. We're closed all day on weekends and bank holidays).
Fill in the form on our website
Send an e-mail to Enquiries@justforkidslaw.org
What happens next
The information you give us will go to our new client enquiries officer, who will read it to see if we need any more information. If we do, we will get in touch with you as soon as possible using the contact details you give us.
When we have all the information we need, our team will work out whether we can help. We will try to do this as quickly as possible, but it could take up to 3 working days.
Once we have made a decision, we will contact you to let you know whether we can help. If we can't, we will give you contact details for other services who may be able to help.
If you have any questions, just call us on 020 3174 2279 or e-mail Enquiries@justforkidslaw.org.