Our work in this area focuses on making sure that children and young people, particularly those with experience of the care system, are properly supported by statutory services if they are at risk of homelessness.
We have two key priorities in this area:
1. Improving local authorities' response to homeless 16- and 17-year-olds
We are working with local and central Government to improve the support which is provided to homeless children aged 16 and 17, and in particular, to ensure that all homeless children in this age group have the opportunity to become 'looked after' by their local authority if this is what they want.
Every year, thousands of children aged 16 and 17 approach their local authority for support as they are facing homelessness, but many are sent away and others are unlawfully housed under legislation that does not give them the full support they are entitled to. The legal status and support which children receive at this age can have life-long consequences.
Not in care, not counted
In June 2020, we published a new report Not in Care, Not Counted -  A legal loophole: homeless 16- and 17-year olds and unregulated accommodation which estimates that around 2,500 children of that age are housed by their local authority each year without becoming 'looked after'. This means they are not legally entitled to any other support except being given somewhere to live and may be left to fend for themselves when they turn 18 and not have the rights they would be entitled to as a care leaver had they been 'looked after'.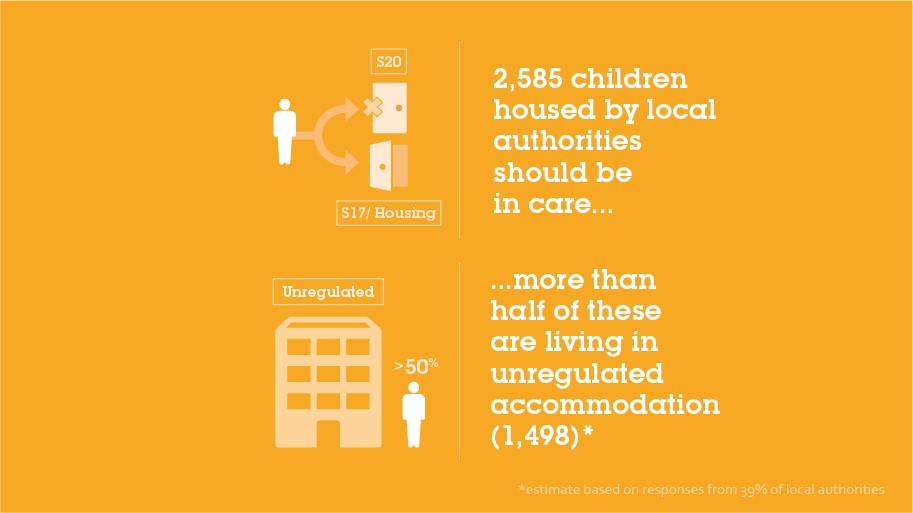 The report also highlights that 1 in 5 children living in 'unregulated' semi-independent or independent settings – including supported living, hostels and foyers – is not 'looked after'. Over 2020 and 2021, we have responded to various consultations around unregulated accommodation to highlight this issue.
Keep on caring campaign
We are part of the steering group of the Keep caring for children up to 18 campaign which is calling on the Government to ensure that all children in unregulated accommodation receive care until age 18, rather than just 'support' as would be the case with the Government's current proposals.
Guidance for professionals supporting 16- and 17-year-olds at risk of homelessness
In 2021, Just for Kids Law partnered with Homeless Link to publish a useful new resource for front-line professionals in the voluntary sector who support 16- and 17-year-olds faced with homelessness. The guidance has been created so professionals can identify what support a child is entitled to at any point in their journey and assist them to access their rights.
2. Increasing support for care leavers facing homelessness
Young people aged 18+ who have experience of the care system ('care leavers') face an increased risk of being made homeless compared to other young people, particularly as they may not be able to fall back on family members if they need somewhere to live. 1 in 4 homeless people were in care at some point in their lives.
We are campaigning for the Government to expand the support it gives to homeless care leavers. In particular, we are calling for homelessness legislation to be changed to:
Extend 'priority need' to all care leavers aged up to 25, meaning that their local authority must house them. At the moment, this only applies to care leavers aged 18-20.
Remove the 'intentionality' criteria for all care leavers, which at the moment can stop them receiving any support if they have lost or refused accommodation which the local authority deems to be suitable, sometimes for reason such as accruing rent arrears.
Independent Review of children's social care
We have been engaging with the Independent Review of children's social care. You can find our response to the Case for Change from August 2021 here and the response from young people we work with here.
In December 2021, the Independent Care Review opened a call for ideas via an online portal. CRAE and Just for Kids Law submitted eight ideas based on our response to the Case for Change, focusing in particular on solutions in relation to issues around homelessness and housing for care experienced children:  
Priority need should be extended to include all care leavers under the age of 25.
The test of intentional homelessness should be removed for all care leavers, up to the age of 25.
Independent youth advocacy should be extended to all children and young people who come into contact with statutory services and an 'active' (opt out) advocacy offer should be put in place, similar to Wales.
There should be more support for homeless 16-17-year-olds.
The law should be changed so that every looked after child receives care until they are 18.
The care review should uphold the principles and provisions of the United Nations Convention on the Rights of the Child (UNCRC) through its working methods, analytical framework and proposals for change.
The children's social care system should urgently receive additional ring-fenced funding. Any reforms suggested by the Care Review must be sufficiently funded or they will put more pressure on an already stretched system.
Legislation should be amended so all care leavers have the highest priority for social housing in all local authorities, particularly when placed out-of-area as a child.
Our submission was informed by what we see in our advocacy and legal casework, our child rights expertise, and our direct participation work with young people with lived experience. Read our full submission for more detail on each idea.
The young people involved in our Care Leavers for Housing Rights campaign have also fed in their own ideas in a submission of their own. 
Care leavers for housing rights
CRAE has launched a new campaign funded by Trust for London, which offers young people aged between 16 and 25 with lived experience of the care system the opportunity to influence positive change and wider reform to help ensure young care leavers have their right to adequate housing realised. Find out more.
Housing panel
We have been members of the new Housing Panel convened by the Mayor of London and Trust for London since 2019, giving us the opportunity to bring the voices of vulnerable children and young people to the heart of the debate on homelessness in London.