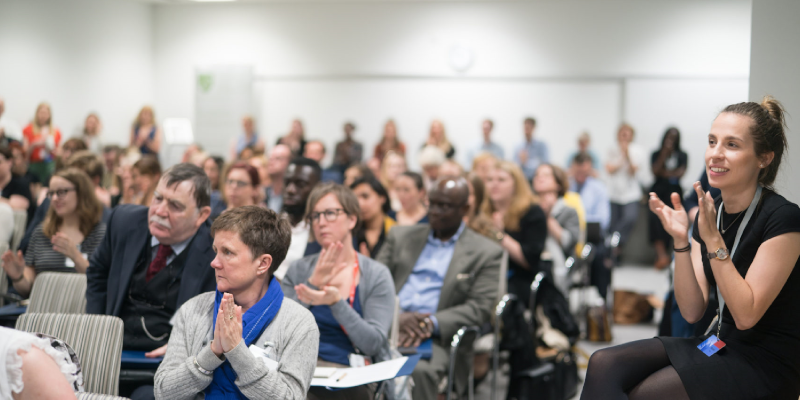 Around 250 lawyers and youth justice professionals are expected to attend the Youth Justice Legal Centre's Youth Justice Summit 2019 today, where speakers will include experts including award-winning Professor Sarah-Jayne Blakemore on adolescent brain development and autism, and Law Commissioner Professor David Ormerod QC.
This year's summit, staged in association with the Dickson Poon School of Law at Kings College London, sold out within days of tickets being released.
This is the third year YJLC, a project of the children's charity Just for Kids Law, has staged a summit, with 2019 being the biggest yet.
Kate Aubrey-Johnson, director of the Youth Justice Legal Centre, says:
"Our aim has always been to create a community of specialist youth justice lawyers. We broke new ground when we held our first summit in 2017, but it has gone from strength to strength since, and shows their is a real appetite within the profession for what we are trying to do. When we started, we were often met with scepticism, but the last three years have seen an incredible shift and there is now growing recognition that youth justice work should be recognised as a specialist area of law, undertaken by skilled and experienced lawyers rather than work which can be farmed out to the most junior lawyers."
Enver Solomon, CEO of Just for Kids Law, says:
"Working to improve the quality of  professional practice in the youth justice system is a crucial part of our work. The topic of this year's Youth Justice Summit is a particularly urgent one, as we see from our casework that the needs and rights of children are frequently overlooked in our criminal courts. It is vital that all professionals working with children in the criminal justice system have proper training to ensure the best possible outcomes."
Jon Black of BSB Solicitors says:
"We are proud to sponsor this Summit and recognise the vital role that YJLC have played in recent years in addressing and challenging the inequities in the youth justice system whilst also playing a key role in providing resources and training for professionals."
Keynote speakers this year include: Professor Sarah-Jayne Blakemore, on child and adolescent brain development; Prof David Ormerod QC, on thinking about children in criminal law reform; Prof Simon Baron-Cohen, on representing defendants with autism.
There will be workshops on: instructing the right expert; diverting children out of the criminal justice system; an update on criminal records following this year's Supreme Court decision (R (on the application of P, G and W) (Respondents) v Secretary of State for the Home Department and another (Appellants) [2019] UKSC 3); reducing custodial remand of children; and what happens when a child turns 18 during the court process. There will also be panel discussions on how to raise neurological issues before the courts, whether the term 'child terrorist' is an oxymoron and ensuring children effectively participate in criminal cases.
For more information contact Jonathan Karstadt, Communications Officer, email: JonathanKarstadt@justforkidslaw.org, Tel: 07984 095793.
Notes to editors:
The Youth Justice Legal Centre (YJLC) has been set up by the charity Just for Kids Law to provide legally accurate information, guidance and training on youth justice law. YJLC provides legal overviews, specialist training and runs an advice line on youth justice law for barristers, solicitors, legal executives, youth offending teams and other professionals supporting children in the youth justice system.
Just for Kids Law is a UK charity that works with and for children and young people to hold those with power to account and fight for wider reform by providing legal representation and advice, direct advocacy and support, and campaigning to ensure children and young people in the UK have their legal rights and entitlements respected and promoted and their voices heard and valued.
The 2019 Youth Justice Summit is taking place on 17 May 2019 at the Strand Campus, Kings College London, WC2R 2ND.