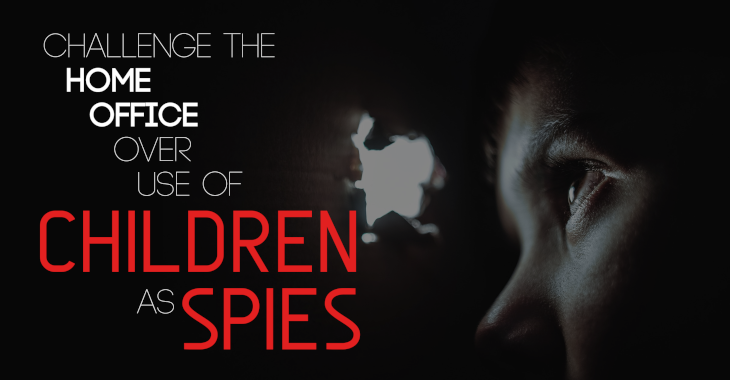 The High Court has granted Just for Kids Law permission to proceed with a case against the Home Office concerning the use of children as spies by the police and other investigative agencies, rejecting an argument from the government that the case should be dropped for procedural reasons. The first full hearing in the case is scheduled for 11 June.
The use of children as spies ("Covert Human Intelligence Sources" or "CHIS") by the police and other investigative agencies has caused a great deal of controversy since it was revealed in a House of Lords debate in July 2018. Parliamentarians and human rights groups have raised concerns about the lack of safeguards to protect young people from physical and emotional harm.
We have issued a judicial review against the Home Office, arguing that the government's position is incompatible with international law, in particular the United Nations Convention on the Rights of the Child. Just for Kids Law is concerned that there are no clear safeguards for children despite the clear risks to mental and physical health posed by their involvement in investigations. This is particularly acute for 16 and 17 year olds, who don't even have access to an Appropriate Adult when speaking to intelligence agencies – despite being at an age where they would have such support if charged with a criminal offence.
Our ultimate aim is to force the Home Office to change its guidance on the use of children as spies in covert investigations. We want the guidance to make clear that the child's welfare is considered when they are recruited; that proper risk assessments are carried out, and that children are only used in the most exceptional of circumstances with appropriate safeguards.
With no legal aid available for this case, Just for Kids Law has raised the funds required through the CrowdJustice platform. Our crowdfunding campaign had a fantastic public reception, with 113 people contributing over £5,400 to make sure we could take this case forward.
Just for Kids Law has issued the case against the government with the counsel of Caoilfhionn Gallagher QC and Sam Jacobs, both of Doughty Street Chambers. We are extremely grateful to our counsel, as well as all of our crowdfunding supporters who have made this vital case possible.