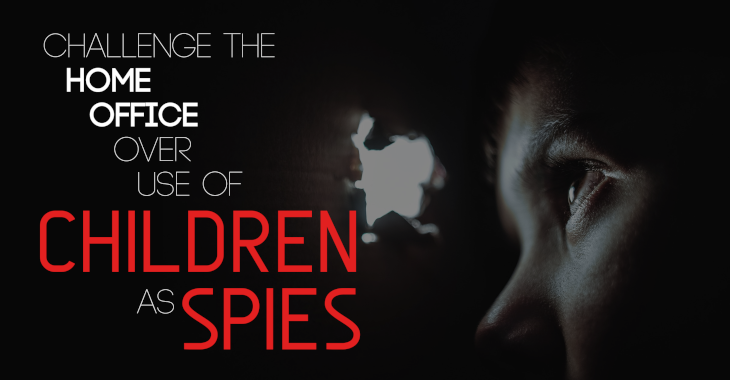 Just for Kids Law has issued legal proceedings against the Home Office concerning the use of children as spies by the police and other investigative agencies. We have launched a crowdfunding campaign to cover legal costs incurred and raise awareness about this neglected issue. The crowdfunder launch coincided with a feature on our action in The Guardian.
We have issued a judicial review against the Home Office, arguing that the government's position is incompatible with international law, in particular the United Nations Convention on the Rights of the Child. Just for Kids Law is concerned that there are no clear safeguards for children despite the clear risks to mental and physical health posed by their involvement in investigations. This is particularly acute for 16 and 17 year olds, who don't even have access to an Appropriate Adult when speaking to intelligence agencies – despite being at an age where they would have such support if charged with a criminal offence.
Just for Kids Law issued a pre-action letter on 30th August raising concern about the use of children as spies. The government replied on 17th September defending its position. We are now launching a crowdfunding campaign to cover legal costs incurred in preparation for further legal proceedings, and urge all our friends and supporters to contribute to reaching our fundraising goal.
Our ultimate aim is to force the Home Office to change its guidance on the use of children as spies in covert investigations. We want the guidance to make clear that the child's welfare is considered when they are recruited; that proper risk assessments are carried out, and that children are only used in the most exceptional of circumstances with appropriate safeguards.
Find out more about the campaign and make a contribution at our CrowdJustice page.
Enver Solomon, CEO, Just for Kids Law says:
"We recognise that intelligence and law enforcement agencies face difficult challenges in tackling new threats, but it is deeply worrying that children are being asked to participate in covert activity associated with serious criminals without fully considering their welfare and best interests.  Not only are the authorities using children – some of them under the age of 16 – in covert investigations, but oversight in this area is so inadequate that the government isn't even aware how many children are affected.  The Home Office must change the guidance to ensure that children are only used in the most exceptional circumstances and with proper safeguards in place for all under-18s."
Lawyers involved in the case:
Jennifer Twite, head of strategic litigation at Just for Kids Law | Read Jennifer's blog on the case via our partner YJLC
Caoilfhionn Gallagher QC of Doughty Street Chambers
Sam Jacobs of Doughty Street Chambers
---
Media enquiries: Jonathan Karstadt: JonathanKarstadt@justforkidslaw.org | 07984 095793