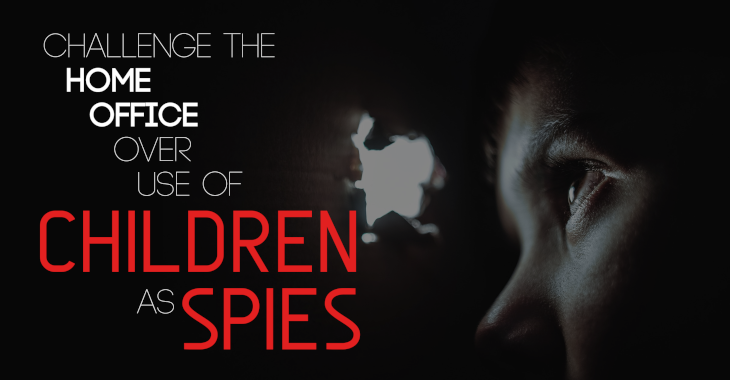 A judicial review challenge against the Home Office will be heard before the High Court in London today concerning the use of children as spies (Covert Human Intelligence Sources/"CHIS") by the police and other investigative agencies. The children's charity Just for Kids Law is bringing the case in the public interest, arguing that the use of children as spies puts them at risk of severe physical and emotional harm, and that the lack of safeguards for children used in this way contravenes domestic and international human rights laws.
Children used as spies under current legislation (a statutory instrument to the Regulation of Investigatory Powers Act 2000) lack even the safeguards afforded to children questioned by police in connection with offences – such as access to an appropriate adult for 16 and 17-year-olds.  For these children their parents may not even know that they are being used in this way. Just for Kids Law is concerned that this results in the exploitation of children. The charity's worst fears were confirmed by a shocking case revealed in the House of Lords in October concerning a 17-year-old girl who was recruited by police to spy on a man who had been sexually exploiting her. While she was deployed as a covert informant, she continued to be exploited by him, and was even coerced into being accessory to murder.
Just for Kids Law hopes that the case will force the government to amend the law by introducing appropriate safeguards to protect children from harm. With no legal aid available for this case, Just for Kids Law has financed the action through a crowdfunding campaign, with over 100 people donating well over £5000 to cover legal expenses incurred.
Enver Solomon, CEO of Just for Kids Law, said:
"The children at the heart of this case are among the most vulnerable in our country and it is vital that they are protected and kept safe from harm. When the police identify a child who is being exploited, their first response should be to safeguard that child and help them to get out of that situation rather than put them at great risk of further exploitation and abuse. The government must act urgently to introduce the safeguards that would protect children from severe physical and emotional harm."
Neil Woods, a former police officer with many years' experience of handling covert human intelligence sources in drugs enforcement, said:
"In my experience, it is common for criminals to resort to extreme levels of brutality to deter informants, contributing to a cycle of ever-increasing violence among drug gangs. I have also seen first-hand how the need to maintain a lie for long periods can cause severe long-term damage to mental health, especially for vulnerable people who are most likely to be used as informants. Children recruited as informants are also highly likely to end up getting drawn back into criminality and feeling trapped in their situation. It is completely inappropriate for children to be put in danger in this way."
Notes to editors:
Just for Kids Law (JfKL) is a UK charity that works with and for children and young people to hold those with power to account and fight for wider reform by providing legal representation and advice, direct advocacy and support, and campaigning to ensure children and young people in the UK have their legal rights and entitlements respected and promoted and their voices heard and valued.
JfKL has a long history of using the law to enact social change through strategic litigation. The charity's previous strategic litigation campaigns include successfully challenging the government's criminal record disclosure regime, resetting the law on joint enterprise and litigating in favour of migrants lawfully resident in the UK who had been refused access to student finance. 
Just for Kids Law previously took the case of R(HC) v SSHD [2013] EWHC 982 (Admin), which confirmed that 17 year olds are entitled to appropriate adults in the police station when they are arrested for any offence.  The United Nations Convention on the Rights of the Child, which the UK has ratified confirms that all those under 18 are children and entitled to special protection under the law. 
Lawyers working on this case are: Jennifer Twite (Head of Strategic Litigation, Just for Kids Law), Caoilfhionn Gallagher QC and Sam Jacobs (both Doughty Street Chambers).
The case of the 17-year-old girl who was recruited to spy on the man who was sexually exploiting her was revealed in a House of Lords debate by Baroness Hamwee. Full transcript: https://www.theyworkforyou.com/lords/?id=2018-10-16b.435.1
Government figures indicate that 17 children in 11 different local authorities have been recruited as spies since January 2015 (as of March 2019), one of them aged just 15. This was revealed in a letter from the Investigatory Powers Commissioner to Harriet Harman MP, chair of the Joint Committee on Human Rights: https://www.parliament.uk/documents/joint-committees/human-rights/correspondence/2017-19/190308_IPCO_to_Chair_re_Child_Spies.pdf
It has been revealed by whistle-blowers that some police forces have been setting targets for increased use of children as spies, as reported to the House of Lords by Baroness Jones. Full transcript https://www.theyworkforyou.com/lords/?id=2019-03-18c.1277.0
Just for Kids Law has so far raised £5444 from 114 pledges (not including Gift Aid and offline donations) through a crowdfunding campaign on the CrowdJustice website: https://www.crowdjustice.com/case/children-as-spies/