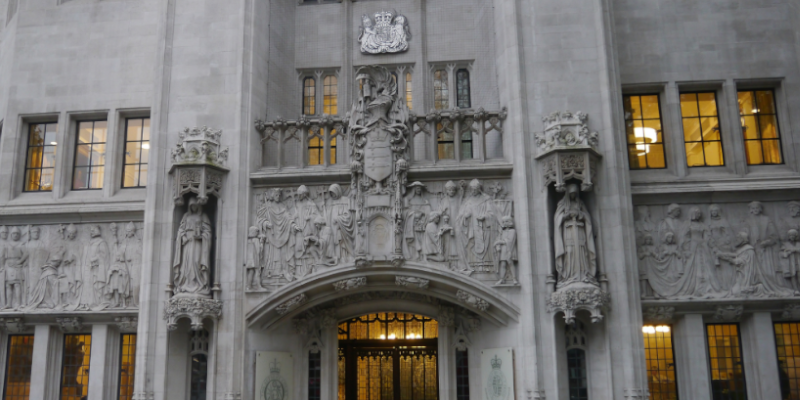 In a landmark judgment, the Supreme Court has ruled the disclosure of youth reprimands to future employers to be incompatible with human rights legislation, a decision that could benefit thousands of children issued with youth cautions every year. Upholding a 2017 ruling by the Court of Appeal, the Supreme Court found that the disclosure of youth reprimands on DBS forms was "directly inconsistent" with their intended purpose as a diversion from the criminal justice system.
The case was brought by the children's charity Just for Kids Law (JfKL), represented by Tim Owen QC of Matrix Chambers and Quincy Whitaker of Doughty Street Chambers, on behalf of a young person who was challenging the policy of disclosing records of reprimands he received when he was 13 years old. Under current law, these reprimands will appear on standard and enhanced DBS checks until he is 100 years old. JfKL argued that this policy fails to treat children differently to adults and contravenes Article 8 of the European Convention of Human Rights, with such disclosure being disproportionate and unnecessary since reprimands, final warnings (and youth cautions, which have replaced reprimands and final warnings) should be primarily a rehabilitative measure, and not a punishment for life.
Enver Solomon, CEO of Just for Kids Law, said:
"We are delighted that the Supreme Court has upheld the decision of the Court of Appeal in favour of our client and are proud to have secured a landmark judgement that will benefit thousands of children issued with cautions each year, a shockingly disproportionate number of whom are from Black and Minority Ethnic backgrounds.
"Our client should never have been given a criminal record that stays with him for life. This judgement makes clear that the disclosure of reprimands and cautions, the legal equivalent of a slap on the wrist, is disproportionate and damaging to the future rehabilitation of children, preventing them from moving on from their past. A parliamentary inquiry reached the same conclusion nearly two years ago when it stated that children were being unfairly denied a second chance.
"There is now an overwhelming view shared by the higher courts and MPs that the government should act immediately to ensure no child who is given a caution ends up with a criminal record that stigmatises them for life. The government should also now conduct a wide-ranging review of the entire criminal records disclosure regime for children and young people."
Christopher Stacey, co-director of Unlock, who intervened in the case, said:
"We welcome today's judgment by the Supreme Court. Unlock intervened in this vital case to help the court understand the importance of the issue and we are pleased that it has ruled that the criminal records disclosure scheme as it applies to multiple convictions and childhood warnings/reprimands was found to be disproportionate. This is an important ruling which stands to affect many thousands of people with old and minor criminal records who have been unnecessarily anchored to their past.
"Today is a crucial step towards achieving a fair and proportionate filtering system that takes a more calibrated and targeted approach towards disclosing criminal records. Recent reviews by the Law Commission, Justice Select Committee, Charlie Taylor and David Lammy MP have all called for the need to look at the wider criminal records disclosure regime. It is now time for the government to act. We strongly urge the government to take prompt and considered action on the filtering system, as well as committing to carrying out a fundamental review of the wider criminal records disclosure regime."
This judgment is the latest in a number of landmark rulings secured by the Just for Kids Law strategic litigation team, whose work has previously led to changes in the law on joint enterprise, the holding of children in police cells, and the eligibility of young migrants for student finance.
Notes to editors:
In this case [R (P, G and W) v SSHD and SSJ], Just for Kids Law represented the second respondent ("G"), who was challenging the policy of disclosing records of two reprimands he received when he was 13 years old, relating to alleged offences committed at the age of 11 and 12. The first respondent ("P") was represented by Liberty.
From page 37 of the judgment: "The second exception concerns warnings and reprimands administered to young offenders under sections 65 and 66 of the Crime and Disorder Act 1998 replaced, since 2013, by youth cautions under section 66ZA. Warnings and reprimands were not a penal procedure. As Lord Bingham put it in relation to warnings in R (R) v Durham Constabulary [2005] 1 WLR 1184 (HL), although they required the offender to have admitted the offence, they constituted a "preventative, curative, rehabilitative or welfare-promoting" disposal: see paras 14-15. A caution administered to an adult requires consent. However, a warning or reprimand given to a young offender whose moral bearings are still in the course of formation, requires no consent and does not involve the determination of a criminal charge. Its purpose is wholly instructive, and its use as an alternative to prosecution is designed to avoid any deleterious effect on his subsequent life. Its disclosure to a potential employer would be directly inconsistent with that purpose. In my view the inclusion of warnings and reprimands administered to a young offender among offences which must be disclosed is a category error, and as such an error of principle. I would expect the same to be true of the current regime governing youth cautions, but we were not addressed on that question and it is neither necessary nor appropriate to decide it on this appeal." Full judgment: https://www.supremecourt.uk/cases/docs/uksc-2016-0195-judgment.pdf Press summary: https://www.supremecourt.uk/cases/docs/uksc-2016-0195-press-summary.pdf  
Government figures show that 13,533 youth cautions were issued in 2016/17, with 11% of those being issued to Black young people – see https://www.ethnicity-facts-figures.service.gov.uk/crime-justice-and-the-law/policing/youth-cautions/latest
A 2017 enquiry by the House of Commons Justice Select Committee on disclosure of youth criminal records found that the aim of the youth justice system was being "undermined" by the system for disclosure of youth criminal records "which instead works to prevent children from moving on from their past and creates a barrier to rehabilitation." See: https://publications.parliament.uk/pa/cm201719/cmselect/cmjust/416/41607.htm
Just for Kids Law is a UK charity that works with and for children and young people to hold those with power to account and fight for wider reform by providing legal representation and advice, direct advocacy and support, and campaigning to ensure children and young people in the UK have their legal rights and entitlements respected and promoted and their voices heard and valued.
For legal analysis of the case, see this blog post from Jennifer Twite, Head of Strategic Litigation at Just for Kids Law, and this legal update from YJLC.
Image by Jay Galvin via Flickr