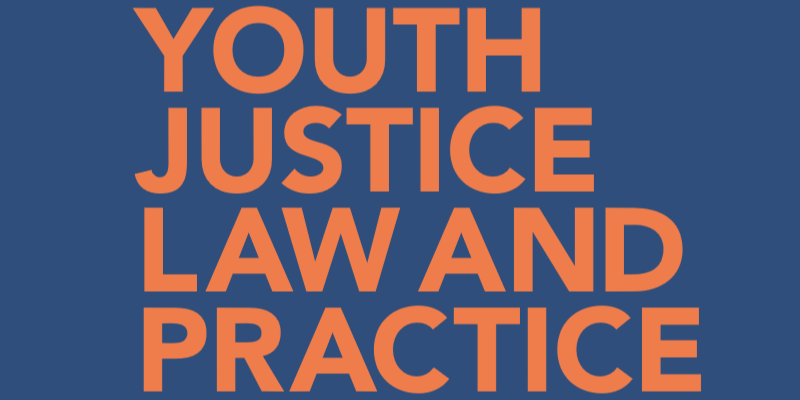 An upcoming book written by three Just for Kids Law lawyers will shine new light on youth justice law and provide a comprehensive guide to its practice. The new book, published by Legal Action Group, has been co-authored by Kate Aubrey-Johnson, director of JfKL's Youth Justice Legal Centre project, Shauneen Lambe, JfKL co-founder and legal consultant, and Jennifer Twite, JfKL's head of strategic litigation. All three authors are specialist barristers with many years' experience of representing children and young people, enabling them to provide an authoritative account of the legal and practical considerations.
Youth Justice Law and Practice is a highly accessible and easy to navigate guide to enable the busy practitioner to quickly find the information they need. Covering the procedure of the youth court, magistrates' court, Crown Court and Court of Appeal, it focuses on procedural differences including bail and remand, jury directions, sentencing, anonymity and reporting restrictions.
The authors bring their unique experience as specialist youth justice lawyers to explain how to communicate and engage effectively with children, the correct approach for dealing with children with learning difficulties, the importance of background and how to ensure children effectively participate in criminal proceedings and receive a fair trial.
Contents include:
duties owed to children at the police station
charging decisions and out of court disposals
bail and remand
age assessments
the sentencing framework relating to children
procedures and modifications to trial relating to children anonymity and reporting restrictions
welfare considerations and duties
communication skills
background and adolescent brain development
criminal records
Youth Justice Law and Practice is essential reading for lawyers and professionals working in the youth justice system, appearing in the youth court and representing children in the adult criminal courts.
Writing in the foreword, Professor David Ormerod QC (Hon), Law Commissioner for England and Wales, writes that the book "will be an invaluable resource to assist lawyers, judges and all professionals working in the youth justice system access the legally accurate information they require to ensure children's rights are protected … the authors are to be congratulated on rendering such a vast amount of material so accessible to a wide readership … I welcome this book which has, at its core, such a powerful message about ensuring access to justice for children."
Youth Justice Law and Practice will be published on 25 April 2019, and can be pre-ordered here.