Just for Kids Law and Homeless Link have launched a useful new resource for front-line professionals in the voluntary sector who support 16- and 17-year-olds faced with homelessness.
It's been created so professionals can identify what support a child is entitled to at any point in their journey and assist them to access their rights. The guidance provides practical advice rooted in our experience of how professionals can advocate for 16- and 17-year-olds, as well as information on communicating effectively with children about their choices, and respecting their agency.
The need for this resource illustrates the flaws in the current legal framework surrounding homeless 16- and 17-year-olds and the consequences for this vulnerable group of children.   
What is the law surrounding homeless 16- and 17-year-olds?
Under section 20 of the Children Act 1989, local authority children's services have a duty to accommodate children (those under the age of 18) who are unable to live with their families. A child housed by children's services under section 20 will become a looked-after child after 24 hours. Local authority housing services also have a duty to homeless 16- and 17-year-olds as they have priority need under Part VII of the Housing Act 1996. However,  the widely known Southwark Judgement of 2009 found that the Children Act duty should take precedence over the Housing Act. This means that the vast majority of homeless children on their own should be accommodated by children's services under section 20 as looked-after children. The only exception is if the child themselves decide they do not want to be accommodated under section 20 as a looked-after child, after being fully informed of the choices available and their respective consequences.
The Government has since reasserted this judgement in joint statutory guidance published in 2010 by the Ministry of Housing, Communities and Local Government (MHCLG) and the Department for Education (DfE) and updated in 2018. Local authorities must follow statutory guidance unless there is an exceptional reason for them not to do so.
How does this work out in practice?
Despite this duty on children's services, research undertaken last year by Just for Kids Law showed that every year thousands of children facing homelessness who approach their local authority for help are still being turned away or not given the support they are entitled to.
Each year, local authorities accommodate an estimated 2,585 homeless 16- and 17-year-olds without making them looked-after children, which has a large impact on the (lack of) support they will receive for years after. Though some of the children housed by their local authority without becoming looked after will have made a fully informed decision not to enter care, many others would not have been given the option or fully informed of the consequences of their choice. A child who is housed under section 20 and becomes a looked-after child will have a social worker visit them every six weeks and ensure all of their needs are met. Depending on their exact care leaver status, many young people who were in care before turning 18 will be entitled to support to achieve their long-term goals from their local authority until the age of 25, including a dedicated Personal Advisor, various financial allowances, a safety net should things go wrong with their accommodation, and priority access to homelessness support.
In contrast, children housed by their local authority, without being put into care, not only miss out on this vital support and contact from a social worker whilst they are a child, they also do not have any legal entitlements once they turn 18.
What we've seen through our work
In 78% of the cases taken on in 2018-19 by our legal team, where local authorities had previously unlawfully refused to house children as looked-after children, local authorities quickly conceded, most often without judicial action needing to be taken. Our legal team also frequently represent young adults who similarly were not accommodated as looked-after children when they were under 18, and then were not entitled to any further support from their local authority once they turned 18. In 2018-19, 75% of these cases were successful, with the young people retrospectively treated as former relevant children (care leavers) by the local authorities which had failed them as children, with all of the legal entitlements this comes with.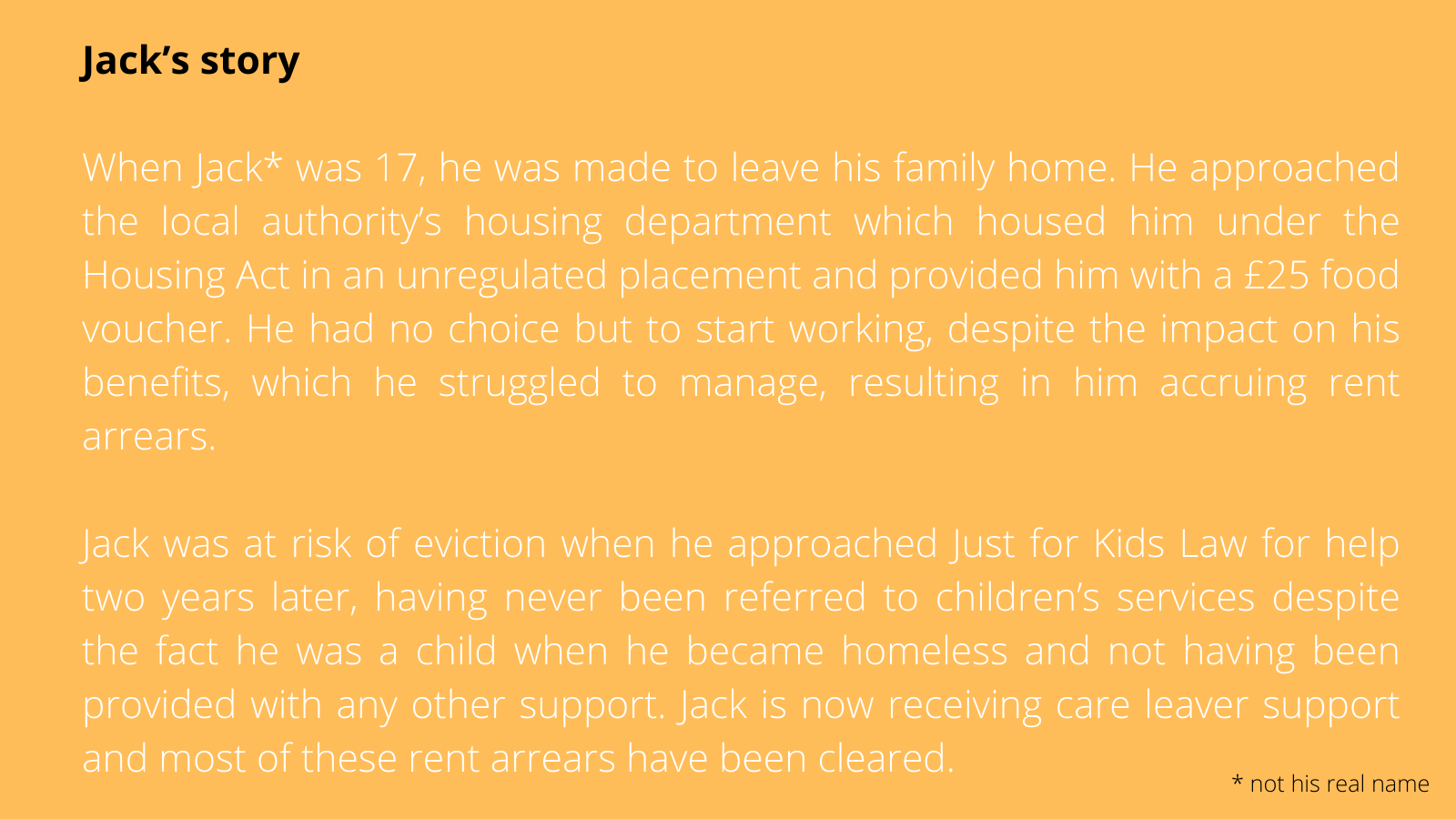 What needs to change
Thousands of children are being wrongly denied life-changing support each year. It's crucial that the Government strengthen national policy to clarify that as a default position, all homeless children should receive support as a looked-after child under section 20 of the Children Act from local authorities, unless they have explicitly said they do not want to, after being made fully aware of their rights and entitlements. To this end, local authorities must ensure that children in this situation always have access to independent advocacy to support them to make informed decisions and navigate the process. Local authorities must receive sufficient funding from central Government to enable this to happen.  We will continue to raise this issue with the Government and local authorities, as well as with those leading the Independent Care Review.
Written by Eloïse Di Gianni, Housing and Social Care Policy Officer.
---
For more information, you can read the guidance here.
We've also created printable resources which can be used with young people. You can access those here and here.
If you or someone you know needs help, you can refer a young person or make a self-referral to our services here.